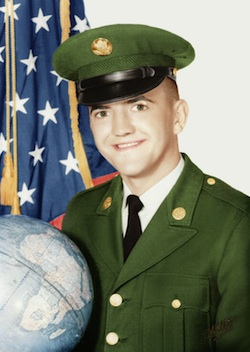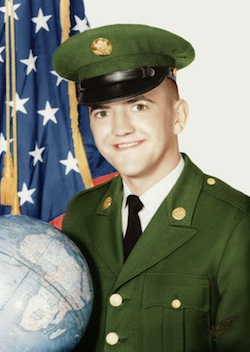 Eleventh child of Hancil & Juanita (Kolp) Howell. Perhaps they thought he would be their last, therefore naming him after Dad. As it turned out they had 1 more child in 1951.
Junior, as family & friends knew him, started the 1st grade of school at Farmland in the fall of 1954. The summer between his 1st & 2nd grades he had one of his thumbs cut off by a sickle bar mower. Dad & I was working on the mower to get it ready to cut some wheat stubble. Junior was feeling some of the sickle sections. The PTO shaft was turned on, not knowing Junior's thumb was on the sickle bar. Was a terrible time for everyone.
Junior was an average student in school, and actually excelled in business, typing, and clerical classes. He started working at the Pure Oil Station in Farmland in 1965. He graduated from Monroe Central High School in May of 1966. He worked at the Pure Oil Station until October 1966. He turned 18 and got on at Delco Battery in Muncie but was laid off before he got his "90 days" in for seniority purposes.
March 1967, Junior and I bought the Pure Oil Station and he worked there until he joined the U.S. Army in January 1969. He knew he would have been drafted anyway. He & I bought Uncle LeVon's house in Farmland in the summer of 1968. I married in November 1968 and we all lived there together until Junior left for the Army the next January. Christmas 1968, as I recall, was a good & happy time for all the family. Who knew it would be the last Christmas Junior would spend with his family.
Basic training was spent at Ft. Knox, Kentucky. He came home on leave for a few days then went to Ft. Lewis, Washington, spending about 6 weeks there before being sent to Vietnam. He got to Vietnam the last part of June 1969. He didn't say much about his unit or his job until November 1969 when they started getting some fatalities and wounded, he was better known to everyone by then. Men were coming to and going home from his unit every month.
January, February, & March 1970 were tough as his unit was seeing a lot of "action". March 8, 1970, his platoon was down to 16 men on one "search & clear" operation, when the unit hit booby traps & 8 of the sixteen were killed. Junior was left in command until his unit linked back up with the rest of the Company. He was promoted to Sergeant E5 shortly thereafter.
OFFICIAL WORD ABOUT DEATH:
Killed 3:00 p.m., 26th May 1970, by small arms fire near the village of Thon Sau, about 21 miles Northwest of Tam Ky City, in Quang Tin Province. His unit was participating in a search & clear operation.
Darrel Jessie, one of Junior's buddies that was in the 1st Battalion, 46th Infantry, 196th Infantry Brigade, American Division with him, wrote that he was in Chu Lai, the unit's rear area, when Junior was killed along with 5 or 6 other men. Forty- some were wounded. Jessie said they were in Hiep Duc. Darrell Jessie made it home in November 1970 but died from cancer sometime in 1985.
All we have left are the photos & medals & ribbons awarded to Junior: Combat Infantry Badge, Sharpshooters Badge (Automatic Rifle), Marksman Badge (Rifle & Machine Gun), Good Conduct Medal, National Defense Service Medal, Vietnamese Campaign Medal, Vietnamese Service Medal, and of course, The Purple Heart.
Most important are the memories we share of that BIG brown eyed young man with the smile that was a mile long… Always in our hearts and on our minds.
Written by Ronald D. Howell, Brother
Hancil Evert Howell Jr
Sergeant
PERSONAL DATA
Home of Record: Farmland, IN
Date of birth: 10/10/1948
MILITARY DATA
Service: Army of the United States
Grade at loss: E5
Rank: Sergeant
ID No: 311506439
MOS: 11B40: Infantryman
Length Service: **
Unit: D CO, 1ST BN, 46TH INFANTRY, 198TH INFANTRY BDE, AMERICAL DIV, USARV
CASUALTY DATA
Start Tour: 06/29/1969
Incident Date: 05/26/1970
Casualty Date: 05/26/1970
Age at Loss: 21
Location: Quang Tin Province, South Vietnam
Remains: Body recovered
Casualty Type: Hostile, died outright
Casualty Reason: Ground casualty
Casualty Detail: Gun or small arms fire
ON THE WALL Panel 10W Line 103